"Eve"
Women are susceptible to different types of illness – so it makes sense to have a policy that's designed especially for them. "EVE" Female Care covers you against major serious female related health conditions, helping with medical costs and making sure you have an income if you're unable to work. This could be a real comfort if you also have dependents and need to make provision for them.
Let's not forget that today a Woman do:
Raise families
Look after the home
Hold down demanding jobs to support themselves and their loved ones.
Heading businesses by being entrepreneurs
Participate in house expenditures
No one likes to think about a serious illness affecting them, but it makes sense to know the odds and to protect yourself against them.
1 in 8 women were diagnosed with breast cancer in 2013

Breast cancer constitutes 42% of all cancer cases among women in Lebanon

Nearly 50% of breast cancer cases in Lebanon are diagnosed among woman under the age of 50

US$34K is the avg. cost of Uterus Cancer Direct treatment per Person in 2013

US$12K is the avg. cost charged for patient and not covered by Insurance or Government

Chances for healing breast cancer in 2013 are 80% with adequate medical plans, available funds and high moral
"Eve" gives you the reassurance that you and your children will be looked after if the worst happens and gives you a financial cushion to cover the costs while you concentrate on getting well.
Product Overview
"Eve" is the only critical care product in Lebanon designed to protect women against female related conditions such as female cancers, female related diseases, maternity complications or osteoporosis from an early stage of diagnosis.

Up to $100,000 lump sum paid immediately if you are diagnosed with any covered female illness

Free access to expert medical advice through World Care International. This offers a free second opinion or case management consultation from world renowned medical centres in the USA specialising in the treatment of serious conditions

"Eve" provides an invaluable top up to all other medical plans you have and covers expenses not normally met such as loss of income for your spouse or care giver, housekeeping and childcare costs, costs relating to non-covered "experimental" treatments, lost income when you survive a critical illness, home or car modifications, home health care needs and expenses not covered by insurance, including co-pays and deductibles.
Packages and Benefits (as a % of amount of cover)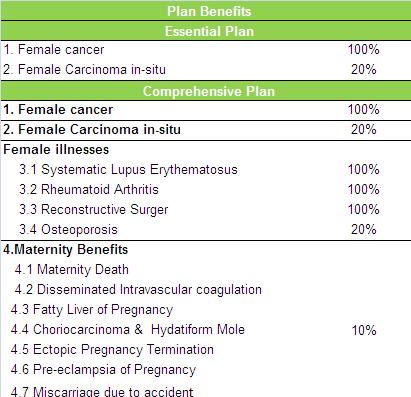 Eligibility
Minimum age 18, maximum age 59. Renewable up to age 65, subject to conditions.
Currency
US Dollar
Minimum and Maximum Amounts
The minimum sum that can be assured is $25,000, the maximum is $100,000. The minimum premium is $108. Both the minimum face amount and the minimum premium must be met.
Premium Modes
Annual, Semi-Annual, Quarterly or Monthly
Gender
Female
Pricing Distribution
Essential Plan

Age Group

$25,000

$50,000

$75,000

$100,000

18-24

$ 108

$ 186

$ 263

$ 341

25-29

$ 147

$ 263

$ 380

$ 496

30-34

$ 183

$ 335

$ 489

$ 641

35-39

$ 224

$ 419

$ 613

$ 807

40-44

$ 280

$ 530

$ 780

$ 1,029

45-49

$ 322

$ 613

$ 905

$ 1,196

50-54

$ 363

$ 696

$ 1,029

$ 1,362

55-59

$ 446

$ 863

$ 1,279

$ 1,695

Comprehensive Plan

Age Group

$25,000

$50,000

$75,000

$100,000

18-24

$ 202

$ 374

$ 546

$ 718

25-29

$ 230

$ 430

$ 630

$ 829

30-34

$ 286

$ 541

$ 796

$ 1,051

35-39

$ 352

$ 674

$ 996

$ 1,318

40-44

$ 391

$ 752

$ 1,112

$ 1,473

45-49

$ 415

$ 807

$ 1,196

$ 1,584

50-54

$ 502

$ 974

$ 1,445

$ 1,917

55-59

$ 613

$ 1,196

$ 1,778

$ 2,361