Extra Med
You may have coverage under a conventional hospitalisation plan where your hospital bill will be paid on your behalf. However, you would still incur extra expenses during hospitalisation and most normal plans will charge you a premium if you wish to have these costs covered.
The Extra-Med is a very special plan designed to pay for all extra expenses related to hospital confinement and much more. The Extra-Med will pay, in addition to any other insurance you may have, a cash benefit in case of any surgery and in accordance with the schedule of surgeries.
Product Overview
Accident & Sickness In-Hospital Cash is payable from the first day if the customer is charged at least for one (1) day of in-hospitalisation
Payment will be made for a maximum of 104 weeks
You receive double the daily benefit in case of admission into the ICU or admission due to cancer, heart attack, or stroke subject to a maximum stay of 30 days per year
Surgical benefit based on the schedule of surgeries is included in the policy
Anesthesia benefit is also provided for at 25% of the surgery benefit
This plan is available to you under multiple options : Individual, Couple (Individual + Spouse with 100% of the benefit), Individual + Children with 25% of the benefit each (no limitation on number of kids).
World wide coverage – you can claim wherever you are

Packages and Benefits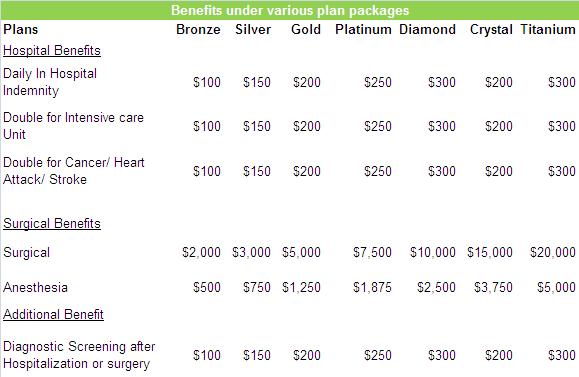 Eligibility
Minimum age 18 and maximum age 59. Renewable up to age 65
Currency
US Dollar
Minimum and maximum amounts:
Minimum surgical benefit amount is $2000 and maximum is $20000.
Minimum In-Hospital daily cash Benefit is $100 (double=$200) and Maximum is $300 (double =$600).
Minimum premium is $289.
Gender
Male and Female
Premium Modes
Annually, Semi-Annually, Quarterly, Monthly and also available under single premiums 3 and 5 years with a 10% discount